We Come to You
Classes are taught at your site or campus, which can be anywhere within 200 miles of Nashville.
Clients include businesses, corporations, dental and medical offices, factories, churches, and schools. Business clients range in size from small to large. Instruction at schools is for both teachers and students.
The requested minimum is six students, but please call if you have fewer.
Individuals or smaller groups may register for classes taught at the Brentwood Public Library. See our Private Classes page.
Certification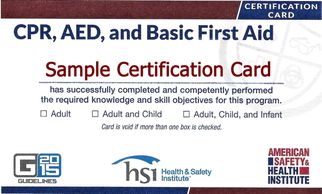 The certification card is your proof of successful training. It is also called a completion card.
Our cards are from the American Heart Association (AHA) and the American Safety & Health Institute (ASHI). They are nationally recognized and accepted.
AHA and ASHI cards meet OSHA certification requirements (Occupational Safety and Health Administration).
Internet companies offer "instant CPR certification," without manikin practice, and they are rejected. Do it right with our training, which always includes manikin practice.
Your Own Manikin and Online Training
In the CPR classes, each student will perform CPR on a manikin, a specially designed dummy for practicing.
Unlike many competitors, there is a manikin for each student. This provides plenty of practice, not just watching and waiting.
Online training is available. Many clients start with online training, to cut the time needed in class. Online classes are easy to use and include high-quality videos.
After on-line training for CPR, you still need an instructor to give you in-person practice on a manikin. The instructor completes your skills evaluation, which is required for certification.
Scroll down for course list.